Guide to the Best SEO Strategies for Medical and Plastic Surgery Practices
When you think of Search Engine Optimization (SEO) Strategies and website optimization services, your first thought might be "it's all nonsense." You might have worked with multiple marketing agencies claiming to provide "SEO." After continuously seeing limited results, SEO looks to you like nothing more than snake oil.
We do not blame you.
You've also probably spoken to a ton of salespeople promising you the moon, but the reality is that it takes people who have the experience, technical knowledge, and passion to always be on the bleeding edge of SEO best practices, trying new experiments to keep your business thriving with Google.
Below, we are going to outline just a fraction of what we mean when it comes to executing the best SEO strategies for your medical or plastic surgery practice, and developing a great Local SEO action plan for your website. There is no exact order of precedence here because as the saying goes, "the whole is greater than the sum of its parts."
An Introduction to Search Engine Optimization
The majority of your organic search traffic will come from Google's algorithm, so that will be our focus. Google's algorithm tries to find the best result or the best answer to a user's query, and then it ranks the results in order of what it deems the best by utilizing 200+ Google-determined signals.
The first steps of many of the SEO strategies being pitched to you will likely appear like so:
You start by writing an in-depth and unique procedure page.
Structuring the content on the page, adding images and formatting.
Submit the live page to Google's index.
For the average SEO service, this is where the story ends. However, because we take the extra effort to mark it up properly and structure the content as a "conversion funnel" (personalized path to engagement with your product), your result on the Search Engine Result Page (SERP) will include more information and be more compelling than others. Google's index then goes, "Wow! Look at all this new, unique content I've never seen before! Let's see how it performs with a query that it matches."
With an engaging search result, more potential patients click on it, and more of those people will click on another link on the page they land on, going deeper into your website instead of bouncing back to Google.
Now, the algorithm thinks to itself, "Wait a second. This content seems relevant to people searching for this topic. This might be the best result for this query. Let's keep trying it out." This is how you can get on the first page, stay there, and move up to the top. The strongest path to great SEO is simply being better than others at leveraging Google's tools. This works better than trying to game the system or using 'black hat' strategies like purchasing links that ultimately can do a lot of damage to your business.
At GrowthMed, we have created and optimized medical websites for some of the most prominent and successful doctors in the industry and through our experience, we've put together a very detailed SEO checklist that we follow exactly.
Web Page Optimizations Checklist
Homepage Content
Your homepage should have a good deal of content describing your practice along with appropriate links to internal pages such as services you offer, locations, and practitioners. This is a good way to pass authority to these pages and ensure they are crawled and indexed.
Rich Formatted Content
"Content is king" is as true today as ever for best SEO practices.
Your content should be at least 1500+ words and be centered around a single topic. Think of the page as a topic and then all of the content supports that content. For example, if you have a page about Breast Augmentation, then that is your topic and now all of the supporting content including Frequently Asked Questions etc should be on this one page.
People used to break up content to make a ton of pages, but this is an outdated strategy as it creates a lot of thin content on your site which you will now get penalized for. Also, do not do keyword spam, once again this is an outdated strategy. If your page is about Breast Augmentation, do not repeat Breast Augmentation 80 times on the page as this will also get you penalized. Use relative keywords to your topic instead, which truly shows that this page is all about its topic.
Matching Keyword Phrases
Ensure your Title, URL, and Main Heading are closely matching. They should target your topic using primary keywords that include your desired location and are well researched.
Schema Markup
Schema markup is code (a shared vocabulary) that webmasters can use to structure metadata to help search engines understand the content being published. You can apply schema markup to a variety of areas such as reviews, and articles to boost the content's SEO value.
Schema.org Review Markup
Testimonials are great for increasing conversions by displaying how happy your customers are with you. As you know if you do a Google search for [YourCompany Reviews], usually Yelp, Healthgrades, etc., show up first and you hate that. Well like I mentioned in Why We Are Different, if you use Schema.org which none of the other Medical SEO companies are currently using (because they lack the knowledge and/or desire), you can have your page show up first with the star ratings you truly deserve above those other sites.
Schema.org Enhanced Google Search Result
Here's an Example of a Plastic Surgeon's procedure page displayed with enhanced information at the top of Google's search engine results using Schema.org.

Body Content and Image Optimization
Image optimization is a simple tactic that can quickly improve the quality of your page, but it is always overlooked. Images on your website are hard for search engine spiders to understand, which is why tools like the "ALT tag" exist. The ALT tag, sometimes called the "Alt attribute," is an alternative text that displays when the image does not appear.
The ALT attribute is part of the <IMG> tag in HTML that is used by screen readers, but Google also uses it to understand in plain text what the image is about. This is a great place to emphasize what the page is about, but do not overdo it with keywords because this can lead to a penalty.
Many companies won't tell you about image optimization and usually, don't do it because it takes extra time.
Site Speed
Search engines love fast-loading sites. This is where technology-based companies crush the rest of the competition. Search engines allocate a certain amount of time to spider your site. The faster your pages load, the more pages search engines spider, and thus more pages in their index giving you more shots to pop up in people's searches. Also, this is a signal Google has publicly mentioned that increases the ranking of your site.
An easy way to test the speed of your site is to use WebPageTest.org. If you do not pass all their tests and you are currently using a marketing company, you now know your marketing companies skill set is seriously lacking.
Mobile Optimization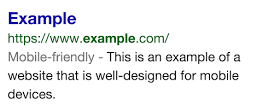 Mobile-friendly design is now integral to helping your site rank. Test if your mobile site is friendly by using this mobile-friendly test.
Mobile can either help or hurt your site. Before, people would create a mobile site for you but not have each page in your desktop site link to your mobile site in the backend. This ended up having Google completely remove your site from its listing when people searched from a mobile device.
We were the only company in the Medical space at the time who appropriately set this up before Google started penalizing sites for this infraction. Our clients ended up trumping all others when this came out and left competitors in a mad dash to try and fix their configurations. Google has an entire page dedicated to explaining how to properly set up your mobile site (Mobile SEO) and it should be followed exactly.
Contact Information
Readily-available contact information is a must for great conversion. Ensure you have your main office phone number in the upper right-hand corner of your website on every page. Also, have a contact form available for your potential patients in the sidebar of every single internal page. Fewer input boxes will equate to more people filling out your contact forms. The key? Less is more.
Google Business Page
Google My Business Posts are almost like "mini-ads" or "social media posts" that show up in Google search for your Google My Business listing (in the Knowledge Panel and on Google Maps). You can include a picture and an Ad for a special you are offering that week, or anything you want to say about your business. This useful, targeted information will help your business stand out.
Matching NAP with Google Business
Be sure to have exactly matching NAP (Name Address Phone Number) between your Google Business Listing and the NAP listed on your site. This guarantees that the listing can be read by Google's spiders (text, not an image). Use Schema.org to mark it up in a way that explicitly tells Google and other search engines that this information is your businesses location information.
Protip: Include pertinent information such as your business hours and mark it up with Schema.org techniques.
Matching Name
Make sure your business name used on your Business Page is exactly as it appears in the offline world. This is crucial for added credibility, but Google also now allows you to include a single descriptor to your business name for helping customers locate your business. This descriptor is a great way to optimize for your location of interest, but definitely, have no more than one or it will be considered keyword spam and you will be penalized.
Matching Address
You have to use the exact address of your business, ensuring it is consistent with the US Post Office. PO Boxes are not allowed, any kind of virtual address could lead to a penalty. Suite numbers should be on address line two. There is an entire page where Google outlines their address entry guidelines for how to handle your address.
Local Phone Number
Ensure your local phone number is used. Even though you may have a toll free 800 number, use your local number.
Introduction Description
Your introduction description should not be spammy, should be unique content, and be above 250+ words.
Locations
Most businesses only have one location, so your uniform resource locator (URL) should point to your homepage, but if you have multiple locations you should create a page specifically for this location (http://www.domain.com/locations/los-angeles/) and be sure your site structure is set up properly where authority from your site is passing to this page as well.
Citations
Check Listings
Your business is probably listed in many directories. It is absolutely important to check all of these listings and ensure they are written identically to your Google Business Page because they play a heavy role in the local SEO algorithm. Achieving identical business listings is called having a clean citation profile, which very time consuming, but critical.
Citation Aggregators
The main citation aggregators that search engines use are InfoGroup, Acxiom, Factual, Neustar Localeze, D&B, and Citysearch.
If you're taking care of the above, then your site is off to a great start. If you are feeling a little lost or confused, contact us and we'll be happy to walk you through any questions you have about your medical practice website and your online presence.
Top 50 Citation Sources
The top 50 citation sources that need to be checked are:
InfoGroup ExpressUpdate
Neutstar Localeze
Acxiom
Factual
D&B
Citysearch
Bing Places
Yelp
Facebook
Yellowpages
Yahoo! Local
Superpages
Local.com
Foursquare
Chamber of Commerce
Yellowbot
Yellowbook
Kudzu
Merchantcircle
Manta
Mapquest
ShowMeLocal
MojoPages
HotFrog
Brownbook
Angieslist
Cylex-USA
InsiderPages
EZLocal
eLocal
Tupalo
ForLocations
CitySquares
GetFave
2FindLocal
Nokia Here
Yasabe
SaleSpider
FindTheBest
Yellpedia
MyHuckleberry
ZipLocal
MagicYellow
City-Data
Thumbtack
MyWebYellow
B2BYellowPages
Pocketly
Tuugo
WikiDomo
Work with a Trustworthy Medical Marketing Agency
This checklist covers the nuts and bolts of optimizing a website from scratch and implementing the tactics that will help you get noticed by potential patients. As made abundantly clear by your unsatisfactory past experiences with low-quality agencies, online marketing is fraught with pitfalls. At the same time, it represents an enormous opportunity to connect with new patients and grow your practice. When done right, online marketing is a reliable asset you can bank on.
The Importance of In-Depth Knowledge & Experience
The acronym "SEO" is so overused and misused by many who claim to be experts. You may trust them and pay them handsomely, but when all is said and done, you get zero results. The actual process of successful SEO aims to affect the visibility of a website or a web page in a search engine's "natural" or un-paid "organic" search results. When done right, you never need to rely on "black hat practices" (aggressive SEO tactics aimed at cheating algorithms and ignoring human audiences) to gain the results you want.
We completely understand that for many doctors and surgeons, they have a dual-role of businessperson and care provider. Time is precious. But we can guarantee that spending the time finding a trustworthy vendor-partner who communicates regularly and practices transparency while your site is being built, as well as "after the sale," it will pay off in dividends.
As true as it is when patients are selecting their cosmetic surgeon, you must choose a knowledgeable technology partner with tried-and-tested experience and not one who only sounds good during the sales pitch.
Actions speak louder than words in this industry.
Your practice's ongoing promotion is crucial to generating a healthy stream of web-based leads. So, if you want your website to be a true success, your vendor-partner cannot be the type to "set it and forget it". As long as your vendor-partner evolves with the constant changes, you'll do great.