Medical SEO (Search Engine Optimization)
Conveniently located to serve the areas of Undefined

Local Search Engine Optimization (SEO), is the process of affecting the visibility of a website or a web page in a search engine's "natural" or un-paid ("organic") search results in a given geography.
Knowledge & Experience
You have probably spoken to a ton of salespeople previously promising you the moon, but the reality is that it takes people who not only have the experience and knowledge but also the passion to always be on the bleeding edge trying new experiments to keep your business thriving with Google.
There are many details when it comes to making a website optimized for Local SEO and it takes a company that is technology driven to ensure every single one of those details are actually done and optimized for your local region. If they are not technology driven, they will always make mistakes and forget to do things on every page of your site.
We have created and optimized medical websites for some of the most prominent and successful doctors in the industry and after all of that, we have created a very detailed SEO checklist that we follow exactly. Below I am going to outline just a fraction of what I mean when it comes to executing a great Local SEO action plan for your website. There is no exact order of precedence here and as the saying goes, 'the whole is greater than the sum of its parts.'
Web Page Optimizations
Matching NAP with Google Business
Exact matching Name Address Phone Number (NAP) with your Google Business Listing, that can be read by Google's spiders (text, not an image) and use Schema.org to mark it up in a way that explicitly tells Google and other search engines that this information is your businesses location information. Along with including other pertinent information and marked up with Schema.org such as your business hours.
Homepage Content
Your homepage is the center of your website and it should have a good deal of content on it describing your practice along with appropriate links to internal pages such as services you offer, locations, and practitioners. This is a good way to pass authority to these pages and ensure they are crawled and indexed.
Rich Formatted Content
Content is king as they say. This has been true since the beginning, but even more so now with all of the algorithm changes. Your content should be at least 1500+ words and be centered around a topic. Think of the page as a topic and then all of the content supports that content. For example, if you have a page about Breast Augmentation, then that is your topic and now all of the supporting content including Frequently Asked Questions etc should be on this one page. People used to break up content to make a ton of pages, but this is an outdated strategy as it creates a lot of thin content on your site which you will now get penalized for. Also, do not do keyword spam, once again this is an outdated strategy. If your page is about Breast Augmentation, do not repeat Breast Augmentation 80 times on the page as this will also get you penalized. Use relative keywords to your topic instead, which truly shows that this page is all about that topic.
Matching Keyword Phrases
Ensure your Title, URL, and Main Heading of the page are closely matching and are targeted toward your topic using your primary keywords that you are going after and include your desired location. Most SEO's know about using the Title and the H1 tag as being the primary drivers for optimization, but they always seem to forget about or not know about also optimizing the URL (http://www.domain.com/plastic-surgery-los-angeles/breast-augmentation/) to match both of those as well. It is all about being consistent and not forgetting there are many signals you can send to Google, so send them all.
Schema.org Review Markup
Testimonials are great for increasing conversions by displaying how happy your customers are with you. As you know if you do a Google search for [YourCompany Reviews], usually Yelp or Healthgrades etc show up first and you hate that. Well like I mentioned in Why We Are Different, if you use Schema.org which none of the other Medical SEO companies are currently using (because they lack the knowledge and/or desire), you can have your page show up first with the star ratings you truly deserve above those other sites.

Example of a Plastic Surgeon's procedure page displayed with enhanced information at the top of Google's search engine results using Schema.org
Image Optimization
Image optimization is always overlooked. It is hard for search engines to read images and it is a pain in the butt because it takes time for the company optimizing your site to optimize images so they usually just don't do it. A couple ways to optimize images are your site is by specifying an ALT tag for each image which tells search engines what the image is about, this is a key area you also place your keywords for the topic you are going after. Also, another overlooked image optimization is the filename of the image. Name the images actual filename keywords related to your topic of the page. Like all things, be careful in how you do this to not create keyword spam.
Website Speed
Speed, search engines love fast loading sites. This is where technology-based companies crush the rest. Search engines allocate a certain amount of time to spider your site. The faster your pages load the more pages they can spider, thus the more pages are in their index giving you that many more shots are popping up in people's searches. Also, this is a signal Google has publicly mentioned that increases the ranking of your site. An easy way to test the speed of your site is WebPageTest.org. If you do not pass all these tests and you are currently using a marketing company, you now know your marketing companies skill set or lack thereof. This is one thing that is completely in your control and can completely move the needle for your site in regard to rankings, if this has not been paid attention to, then it is time to start asking them some serious questions.
Mobile Optimization
Mobile friendly design is now integral to helping your site rank. On November 18, 2014, Google officially said having a proper Mobile site can help with ranking your site. They hardly ever say exactly what is in their ranking algorithm, but they have said speed, security (SSL), and now a new set of specific mobile-friendly criteria. Some of the new criteria they outlined are avoiding software that is not common on Mobile such as Flash, use text that is readable without zooming, appropriate size content to the screen of the device so users do not have to scroll horizontally or zoom, place links far enough apart so that the correct one can be easily tapped. You can test if your mobile site is friendly by using the mobile-friendly test. Mobile can either help or hurt your site. Before people would create a mobile site for you, but not have each page in your desktop site link to your mobile site in the backend, which ended up having Google completely remove your site from it's listing when people searched from a mobile device. We were the only company in the Medical space at the time who appropriately set this up before Google started penalizing sites for this infraction and our clients ended up trumping all others when this came out and left others in a mad dash to try and fix their configurations. Google has an entire page dedicated to explaining how to properly setup your mobile site (Mobile SEO) and it should be followed exactly.
Contact Information
Readily available contact information is a must for great conversion. Ensure you have your main office phone number in the upper right-hand corner of your website on every page. Also, have a contact form available for your potential patients in the sidebar of every single internal page. Fewer input boxes will equate to more people filling out your contact forms. The key to this is, less is more.
Google Business Page
Single Listing
Ensure you only have one listing, a lot of times businesses have multiple listings, so you have to find all of them and then delete all of them except for the ones that you want to use as your primary Google Business Page.
Avoid Penalties
Ensure your Google Business Page is not currently being penalized or at risk of getting penalized. If so, actions need to be taken right away. If it is penalized you will never show up in the Google Places and/or in the Google Maps side of search.
Email Address
Ensure the Google Business Page is associated with an email address of your website's domain which can help with verification of the business.
Verification
Make sure your Business Page is verified. If it is not verified with Google, then it will never show up on searches.
Matching Name
Make sure your business name used on your Business Page is exactly as it appears in the offline world. This is crucial for added credibility, but Google also now allows you to include a single descriptor to your business name for helping customers locate your business. This descriptor is a great way to optimize for your location of interest, but definitely no more than one or it will be considered keyword spam and you will be penalized.
Matching Address
You have to use the exact address of your business, ensuring it is consistent with the US Post Office. It should only contain information that is part of your official address, basically, do not add cross streets or any other information. PO Boxes are not allowed, any kind of virtual address could lead to a penalty. Suite numbers should be on address line two. There is an entire page where Google outlines their address entry guidelines for how to handle your address.
Local Phone Number
Ensure your local phone number is used. Even though you may have a toll free 800 number, use your local number.
Business Category
Categories for your business are one of the most important parts to Local SEO. If you get these wrong, you will be missing so many opportunities for your business. If an unrelated category is used, your listing could completely disappear, but getting them right can jump you to the top of the listings. Use all of the categories that are allowed for your industry, picking categories that describe what your business is and not what it does. Your primary category should be the one that most closely represents your primary keyword and then the following categories should be related to your main service.
Locations
Most businesses only have one location, so your uniform resource locator (URL) should point to your homepage, but if you have multiple locations you should create a page specifically for this location (http://www.domain.com/locations/los-angeles/) and be sure your site structure is set up properly where authority from your site is passing to this page as well.
Introduction
Your introduction description should not be spammy, should be unique content, and be above 250+ words.
Photos
Upload photos that describe your business and show it off, no nude before and afters.
Regular Posting
Most people overlook this part, but ensure to post regularly on your Google+ Page for your business as this shows you are active, posting weekly is a great way to achieve this.
Trusted Photographer
If possible, use a Google Trusted Photographer to take pictures of your business as this is a great way to verify your business in Google's eyes. This will add a "Virtual Tour" to your listing.
Citations
Check Listings
Your business is probably listed in many directories, it is absolutely important to check all of these listings and ensure they are exactly written as they are in your Google Business Page because they play a heavy role in the local SEO algorithm. After they are all identical this is called having a clean citation profile, it is very time consuming but critical.
Citation Aggregators
The main citation aggregators that search engines use are InfoGroup, Acxion, Factual, Neustar Localeze, D&B, and Citysearch.
(Graphic from David Mihm's Local Search Ecosystem)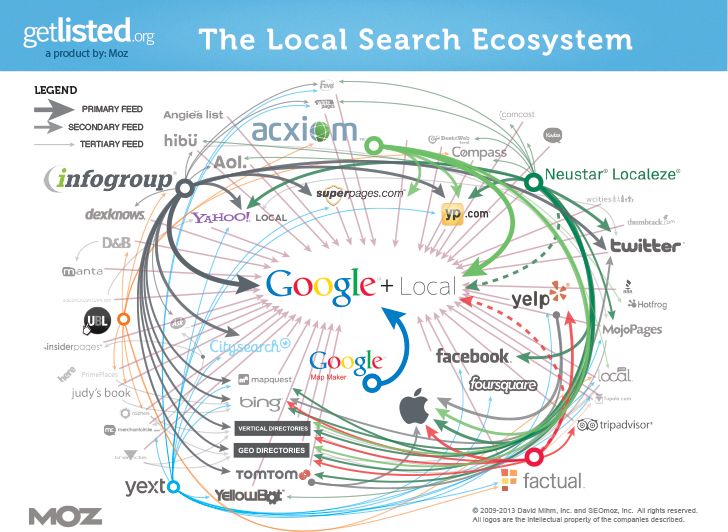 Local Search Ecosystem diagram displays how the different services verify and distribute your Name Address Phone Number (NAP) of your business.
Top 50 Citation Sources
The top 50 citation sources that need to be checked are:
InfoGroup ExpressUpdate
Neutstar Localeze
Acxiom
Factual
D&B
Citysearch
Bing Places
Yelp
Facebook
Yellowpages
Yahoo! Local
Superpages
Local.com
Foursquare
Chamber of Commerce
Yellowbot
Yellowbook
Kudzu
Merchantcircle
Manta
Mapquest
ShowMeLocal
MojoPages
HotFrog
Brownbook
Angieslist
Cylex-USA
InsiderPages
EZLocal
eLocal
Tupalo
ForLocations
CitySquares
GetFave
2FindLocal
Nokia Here
Yasabe
SaleSpider
FindTheBest
Yellpedia
MyHuckleberry
ZipLocal
MagicYellow
City-Data
Thumbtack
MyWebYellow
B2BYellowPages
Pocketly
Tuugo
WikiDomo