Healthcare Marketing During COVID-19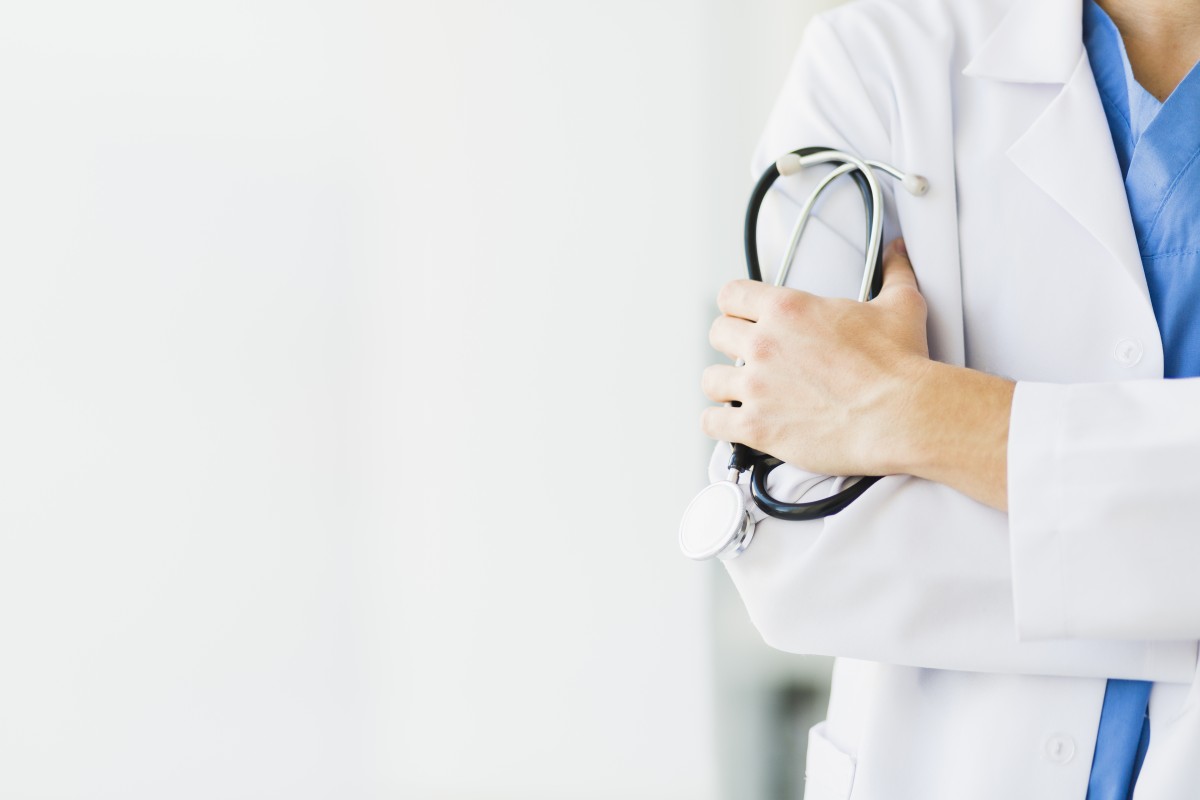 The right healthcare marketing strategy is essential to your plastic surgery practice or medical spa. GrowthMed medical marketing is committed to helping your small business endure the current crisis and emerge from it prepared to capitalize on pent-up demand once the storm has quelled.
GrowthMed is one of the fastest-growing SEO agencies in the healthcare industry. Doctors across the country regularly read our blog because it is a trusted source for thought leadership in digital marketing.
GrowthMed to Plastic Surgeons: This Too Shall Pass
Many months after the beginning of the COVID crisis the world is still reeling. People's spending and income were both severely affected when the economy was rocked by travel bans, shelter-in-place orders and the silent spread of an invisible virus. Worse yet, many of your potential patients' buying patterns will likely have changed for good! COVID-19 has rapidly accelerated many of the same digital trends that made a comprehensive digital marketing strategy so important before the pandemic. Presently, and into the future, it is more essential than ever to properly represent your practice online.
Call our Los Angeles offices to learn more: (310) 577-0000 
GrowthMed is here to help nice doctors finish first in the post-COVID-19 future. You can fight back against COVID's chilling effect on business with the marketing masters and technical wizards at GrowthMed. Set up a call with our Founder and Chief Technologist, Steven Fruchter. As sure as your phone's GPS, he'll help guide you through the present haze of uncertainty into a bright and prosperous future.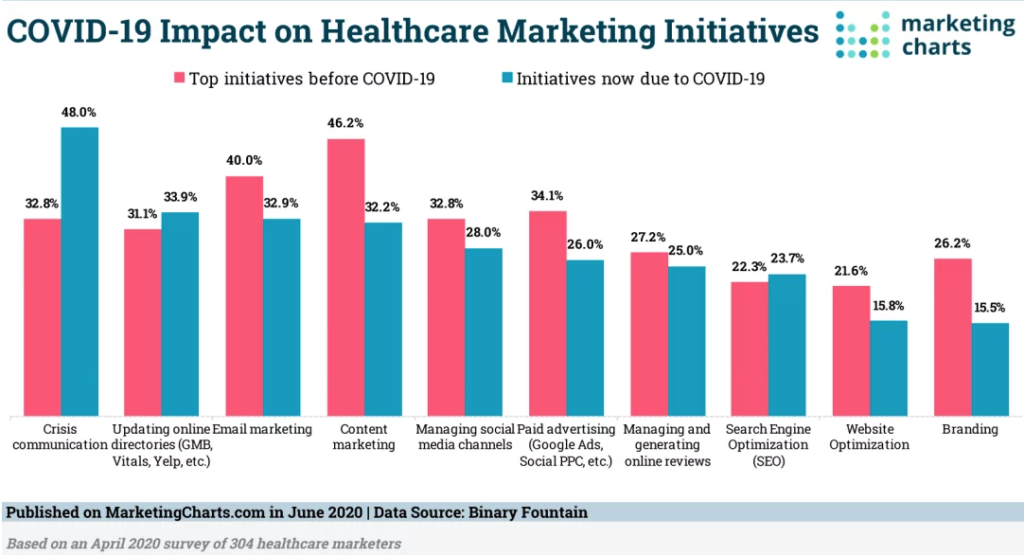 In Crisis There is Opportunity
There's no way to sugarcoat it: coronavirus hit the global economy like a tsunami. But, in every crisis there are opportunities. Our clients in the healthcare industry have some unique assets to leverage in a worldwide pandemic. At the same time, many of the most brilliant doctors we work with are eager to acquire new knowledge in search engine optimization (SEO) and online lead generation. 
Our regular analysis of Google's search patterns has revealed many interesting trends, some of which should come as no surprise. The demand for online health content has been growing steadily for years but it's experienced a major spike since the spring of 2020.[1] A positive by-product of the global pandemic is even greater awareness of healthcare. Consumers are turning to healthcare providers first as COVID elevates our collective esteem for doctors and hospitals on the front lines.
TeleHealth is the Future
Relaxed regulations and pent-up patient demand mean that one coronavirus-era trend is here to stay: TeleHealth. Remote meeting platforms like Zoom have all seen surges in usage (and their net worth) since social distancing sent so many of us indoors. Plastic surgery practices, medical spas and larger healthcare organizations would be well advised to see this current lull in patient foot traffic as an ideal moment to scale up their telemedicine capacity.[2] It's a sure way to continue your patient acquisition and retention efforts even amid shelter-in-place orders.  
GrowthMed makes TeleHealth safe and easy with Patient.Chat. Patient.Chat is our very own telemedicine platform designed to make remote healthcare secure and simple. 
Leverage Your Content to Capture COVID Curiosity
Ultimately, good marketing is successful communication. There are likely dozens, if not hundreds of prospective patients performing coronavirus-related Google searches in your area. Many of them may be interested in your services. At GrowthMed, we help our clients capitalize on current trends by crafting relevant content to capture the curiosity of web seekers.[3] 
While it was already headed in an irrevocably upward trajectory, the consumption of online media has certainly surged in 2020. Is your practice poised to seize the moment? We will discuss some of our COVID-era content strategies below.
Think Locally
GrowthMed's SEO strategy has always focused on local success. Most private practices and small businesses predominantly (if not exclusively) rely on a steady stream of locally-based patients and their repeat appointments. The spread of coronavirus—and our social distancing measures to contain it—has emphasized SEO's already local bent. Also, people are turning to local leaders and other prominent pillars of the community as a trusted source of information in this climate of ever-evolving uncertainties. As a medical professional, you are a local thought leader, especially in regards to healthcare. You are also a member of the community with a front-row seat to current conditions in your area. So, think locally, as far as your SEO-enhanced website content is concerned. Before you launch a campaign to encourage more patient consultations, ask yourself: is the campaign right, given the current context in the local market?
Be Discovered
Google reports that interest in coronavirus grew more than 260% globally from the first week of February to early March of 2020. Articles and infographics serve as discoverable content that is designed to lure interested visitors. This very blog post was crafted to be easily discoverable by plastic surgeons and medical professionals searching for a leg up in these unprecedented times. Your potential patients are conducting similar searches.[4] And, if they are not landing on your practice's website, they are very likely ending up on the sites of your local competitors. Discoverable content does more than simply seize upon current search trends. It is part of your long-term SEO strategy—as Google observes web searchers consistently clicking on and sharing your site's content, it will begin to recognize and reward your authority in the medical aesthetic space.
Stay Flexible
Just as in medicine, the digital marketing landscape is dynamic and ever-evolving. Google's regular algorithm updates and new advances in technology have meant that GrowthMed has always been open to change. In 2020, our flexibility has proven to be a greater asset than ever. The one constant in the COVID-19 crisis is that conditions are rapidly changing on a weekly (almost daily) basis. This is a time to regularly reassess your assumptions and make sure you are acting in accordance with the latest facts on the ground. Last month's stellar campaign concept might not be appropriate today. At GrowthMed, we regularly analyze the most recent search data to make sure all of our strategies are informed by reliable performance metrics.
GrowthMed Helps Nice Doctors Finish First
A short call with our Lead Technologist, Steven Fruchter, can reframe how you see your plastic surgery or MedSpa practice. Let us help you craft a new approach to creating interest in prospective patients who are actually interested in your services. We help nice doctors finish first because we let you focus your valuable time and attention on doing what you do best: providing top-notch, quality care. So leave the lead generation to us. Our scores of satisfied clients all agree that GrowthMed pushed their practice to the next level.
"Switching to GrowthMed has been one of the best decisions I have made for my practice. Not only do I have a beautiful website, but I have a powerful marketing tool that has helped my practice thrive. What drew me to GrowthMed is their CEO, Steven. He is an out of the box thinker who is always ahead of the curve."

Dr. Joseph Michaels
In these changing times, a strong and effective online presence is more important than ever. Even if you must temporarily shutter your doors due to COVID concerns, our team is still hard at work guiding prospective patients to your practice so that you'll be busy with appointments the very moment you reopen. Many of our clients have recently told us that, during the coronavirus epidemic, an attractive, functioning website was a better investment than their impressive office spaces that sat empty for most of the spring. Consumer habits are clearly changing. They have been for several years. COVID-19 has only increased the stakes of your comprehensive digital marketing strategy. The rate of change is surprising but not shocking to Steven Fruchter. He saw these shifts coming years ago. Contact us to gain insight into the future of medical marketing. Begin the conversation by calling (310) 577-0000.
Prepare Your Practice for Pent-Up Post-COVID Demand 
Coronavirus has shown us that our screens are more than just a pretty tech toy or an idle distraction. While we sheltered-in-place, our devices became a window to the world. We now all know that the internet as a vital lifeline for conducting business and managing transactions. GrowthMed can help you build trust now so your practice can convert interested patients later when this crisis passes. 
References