How To Recover From The Google Medic Update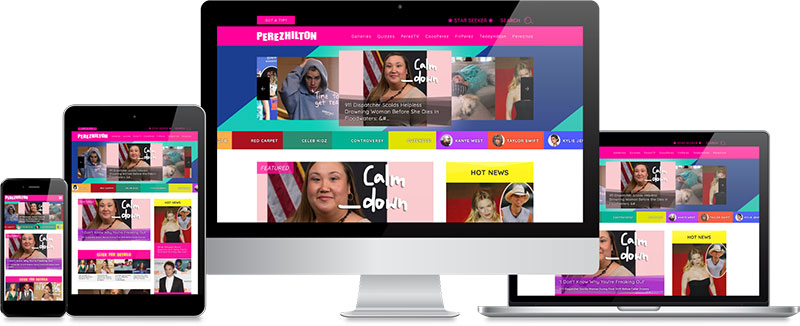 PerezHilton.com Case Study: How We Turned an 84% Decrease Into A 782% Increase after the Google Medic Update.

After Google Medic Update
decrease in traffic
After GrowthMed Overhaul
increase in traffic
TL;DR
PerezHilton.com, like thousands of plastic surgery websites, was negatively impacted by the Google Medic Update.
GrowthMed's team rebuilt the website from scratch; overhauled the entire design and made it responsive; optimized speed performance; implemented Schema; restructured the entire URL structure; created instant submissions to Google's index, Google News, Apple News, and Facebook Stories; deployed accelerated mobile pages technology; developed desktop push notifications to bring people back multiple times per day to the website. We also revamped their content production process to meet Google standards.
PerezHilton.com's organic traffic surged by 782% in the 2 months after our fixes, and continues to see growth!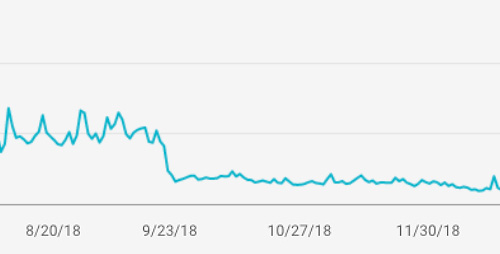 On August 1, 2018, when Google released an update to its algorithm nicknamed the "Medic Update," thousands of plastic surgery, cosmetic surgery and medical industry websites around the world experienced sudden, major hits to their traffic. Unexpectedly, prominent entertainment and news websites such as DailyMail.com and PerezHilton.com were also greatly affected. Some websites saw losses of more than 50% within the first 24 hours of the update's release!

The Google Medic Update Aftermath
Websites that were negatively impacted by the update were sent scrambling for answers on how to recover. By the time we were hired by PerezHilton.com, the website's traffic held an overall downward trend and averaged a loss of as much as 84% of traffic since the initial Medic Update release. Specifically, in their case, every percentage loss in traffic cost them tens of thousands of dollars.
We had to act quickly.

Our work on PerezHilton.com began at the end of 2018. By the time of this article's publication, we were able to fully unpack the problem and implement our strategy. We have since been analyzing and re-analyzing the results and continue to implement supplemental improvements as necessary.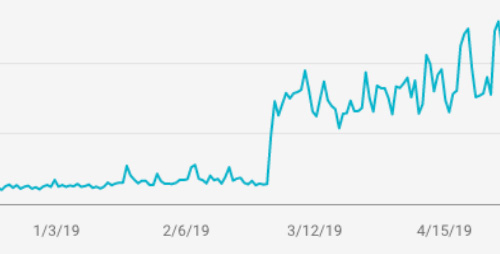 To save you the suspense, we'll skip ahead and share a glimpse of how everything turned out: To date, PerezHilton.com has fully recovered and is experiencing new ongoing growth in organic traffic! We're confident in the immediate and long-term success of our strategy and have since replicated these results for many other plastic surgery websites around the world.
How did we take a site from an 84% decrease in organic traffic to a 782% increase?
How to Beat the Google Medic Update
Our main goal was to halt the downward trend in traffic and restore growth as soon as possible, but we also aimed to set the website up for long-term success. The last time the website was updated was back in 2005. The website was originally built using one of the first versions of WordPress, but the previous team that worked on the website changed the core of the WordPress system, thus it was impossible to update WordPress because the files and the database structure were no longer in WordPress format.
To bring the website up to date we had to completely rebuild PerezHilton.com from the ground up in a month.
Rebuilding PerezHilton.com after the Google Medic Update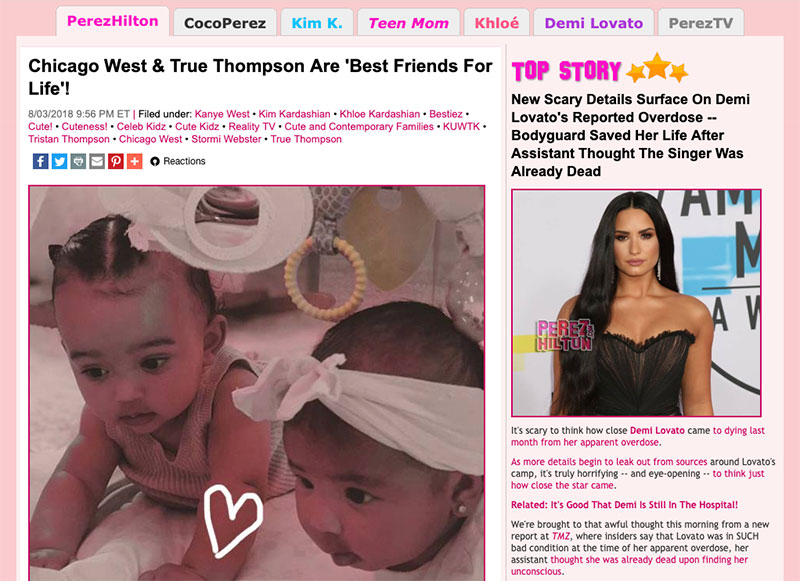 Even though we were rebuilding the website, that did not mean we were starting with a completely clean slate. The structure of the website differed from what WordPress is today, which made it impossible to update and created major problems for migrating their content to an updated system. Normally, this process requires just a few clicks. However, PerezHilton.com was still operating on WordPress 2.0, which is nearly a decade old. In Internet years, that is prehistoric.
With hundreds of thousands of pages of content, tens of thousands of categories and tags, and nearly a decade's worth of data, a task like this could take an entire team of dedicated developers half a year to complete.

Fortunately, our development team was able to literally invent a customized converter for transferring PerezHilton.com's massive amount of old data and structure successfully in just two weeks! We wanted to keep all of the data and the structure, meaning when we created a post, we would be able to keep the categories, tags, and comments associated with the post. We then had to translate this into WordPress's database structure.
Once we migrated the content over to a new, modern, system, we got down to business rebuilding the website.
To do this, we created a program that loaded a virtual WordPress set up so that it could access the WordPress API's (Application Program Interface). The program would then pull in a batch of posts and insert them using WordPress API's, keeping all of the relevant data inserted perfectly into the database so that once we were done, we would have a clean new version of WordPress with all of the content completely intact. We had to overcome many issues like memory leaks, etc. when trying to convert so much data, but we solved all issues and completed this first major task.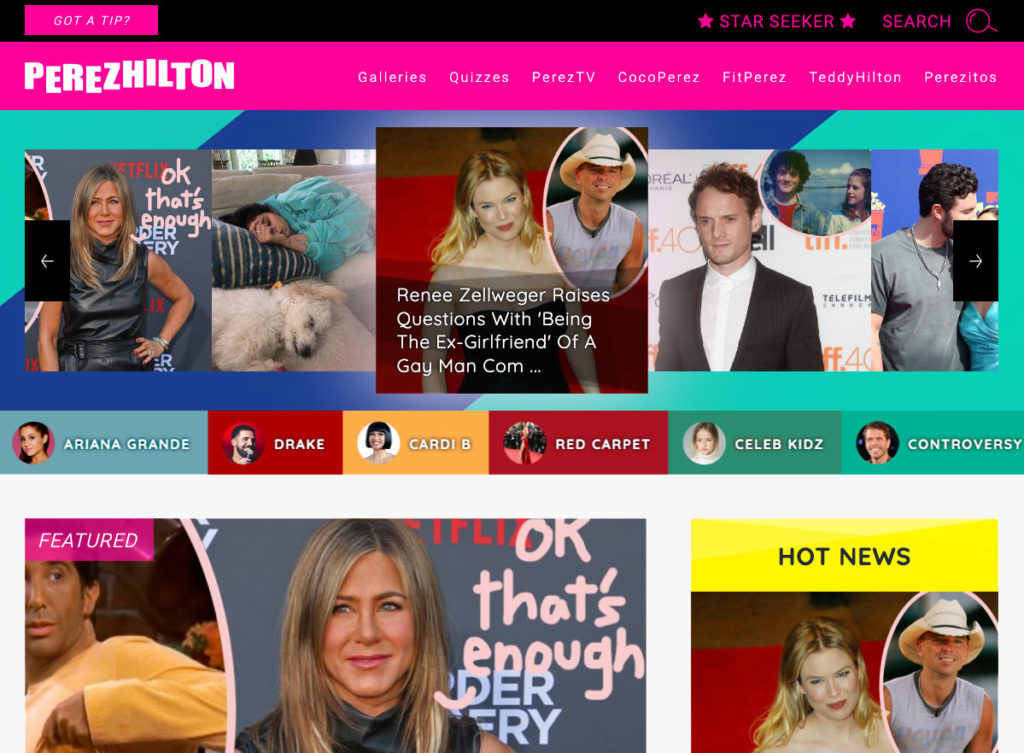 Optimizing User Experience and Website Performance
These are a few of the many tweaks and optimizations we made:
Interactivity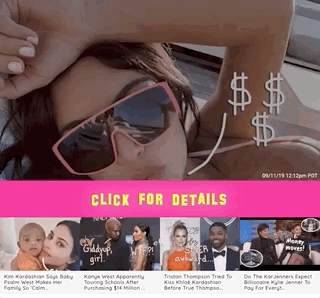 We created a SnapChat inspired interface, but instead of having the experience in an app, we made it work on the web. As you scroll down the page, new and diverse animations appear making each post feel more dynamic and interactive. Also, we built this feature so the authors could choose the animation and colors for each article.
URL Architecture
We removed dates from URL posts to ensure posts had a little more evergreen life.
Redirects
To ensure we did not lose any Google juice, we created 301-redirects where appropriate to pass the link equity to the proper locations as we altered the URL Architecture.
Boosted Social Media Engagement
We modernized the design, added more imagery, and created posts that mimicked social media design for seamless social media engagement.
Embed Tags
Fixed and added image embed tags. Previously lacking and inconsistent embed practices created major issues such as poor-looking content, broken pages and pages that load slowly.
Gallery
We created a new Gallery Structure that allowed for an enhanced SEO profile.
Content Automation
When new content would be posted to the site, we caught a few websites that were immediately copying and republishing PerezHilton.com's unique content in order to steal credit and siphon traffic.
As a protective measure, we engineered a system that instantaneously and automatically sends content published on PerezHilton.com directly to Google for indexing, thus preventing any copycats from stealing credit. Also at the same time, we implemented auto-posting to all major news outlets like Google News, Apple News, Facebook, etc.
Schema.org
This is some major secret sauce, but we heavily implemented Schema.org throughout the website for future-proofing.
AMP
Setup Accelerated Mobile Pages, the latest mobile framework supported and promoted by Google.
Speed
Everything has to run very smoothly very quickly. We implemented many technologies to make all of this load in under a second for the user to have a seamless viewing experience.
The updates listed above are just some of the hundreds of improvements that were made to optimize website function and user experience in addition to revamping the design, the custom-built social media-inspired layout, and automated social media.

Our redesign strategy paid special attention to the implementation of AMP and responsive web design.
What is Responsive Design?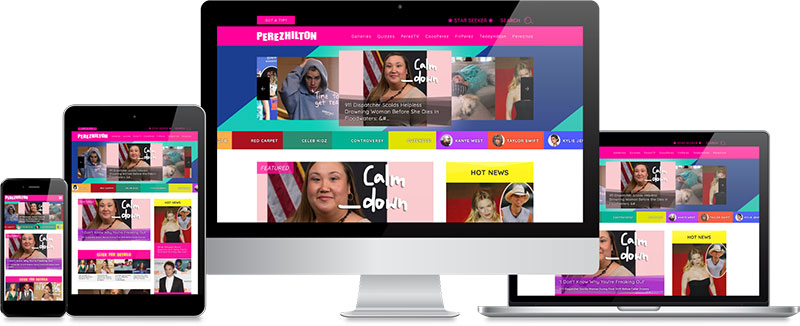 Responsive web design means a website is built with the technical flexibility to display and function properly on different devices such as a tablet or smartphone. For a news outlet like PerezHilton.com that is viewed all around the world, appearing properly on a variety of devices is a must. Responsive design requires specialized accommodations for page layout, image resolution, and scripting abilities. The goal of responsive web design is versatility. In order to achieve this versatility, we had to redesign their page layout from the ground up.
Our responsive design featured larger, clickable images, efficient, but less-invasive ad placement, and an overall image-based, Instagram-esque scrolling experience. (Please see the below example.)

What Is An Accelerated Mobile Page (AMP)?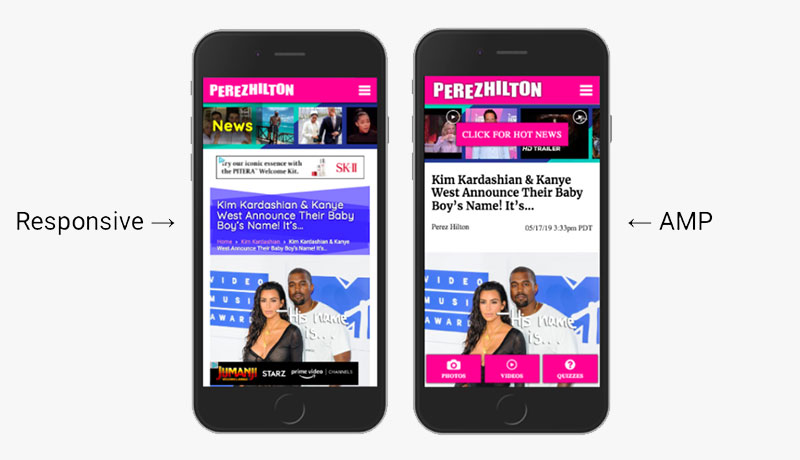 Although responsive design and AMP involve improving user experience on mobile, they are not the same.
An Accelerated Mobile Page (AMP) refers to a framework of web page design that is a stripped-down, lightweight version of a webpage. And, as you may have guessed, they're specifically intended for mobile users. Mobile users account for over 60% of today's internet's traffic. In the case of PerezHilton.com, it's about 80% of the traffic so AMP was imperative.
AMP framework was introduced by Google to "improve the performance of the mobile web." The AMP framework dramatically decreases page load time to near-instantaneous, which is hugely important in a world where page load times are an increasingly essential ranking factor. Moreover, AMP improves the user's experience with a website by ensuring a page's content reads and appears legible on a mobile device.
Page Load Speed
In the case of PerezHilton.com, the AMP pages were non-existent prior to us. The old mobile version was taking longer than the desktop version to load: it was a mobile nightmare! The analytics showed that anyone arriving at PerezHilton.com would quickly leave because they were not getting what they were expecting.
The almighty Google was not happy.

Soon enough we designed simple, scaled-down, super light and agile pages. If PerezHilton.com mobile and AMP pages were previously cinder blocks, the rebuilt versions were like a summer breeze, almost unnoticeable because they were doing what was expected of them. The result? A seamless user experience.

On top of being a poor user experience, slow load times can really hurt your site's SEO value. Google has publicly expressed that page speed is an important ranking factor.

Paid Links
PerezHilton.com did not have any paid links, but if you do, and your website was hit by the Google Medic update, this would be the exact time you go through your link profile and disavow any paid links.
What Are Paid Links?
Paid or bad links refer to a practice where someone, a website owner, is paid money or offered services to post links on a website. Buying links is tempting because it is a quick strategy to boost your ranking, but it explicitly violates Google's guidelines.
If you aren't sure what bad or paid links are, these are some examples:
Advertorials or native advertising where payment is received for articles that include links that pass PageRank.
Links with optimized anchor text in articles or press releases distributed on other sites.
Low-quality directory or bookmark site links.
Keyword-rich, hidden, or low-quality links embedded in widgets that are distributed across various sites.
Widely distributed links in the footers or templates of various sites.
Forum comments with optimized links in the post or signature.
Repeat after us: "I will not pay for links."
This is a habit we've come across ever since people realized links are an important ranking factor. However, it rarely, if ever pays off in the long term! If you're caught by Google using paid or bad links, your website can be severely penalized.
Content
Although PerezHilton.com falls into the category of entertainment news, much of the website's content is YMYL content. YMYL content stands for "Your Money, Your Life" and refers to any type of content on a website that is relevant to a user's money or health (E.G beauty tips, health information or financial advice).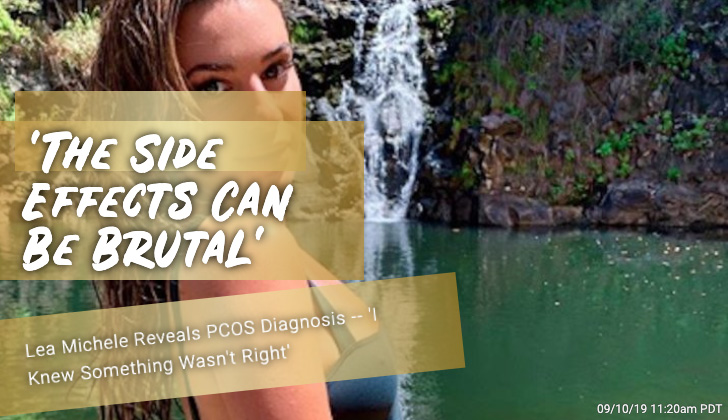 Why Does YMYL Matter?
In typical Google fashion, they cryptically implied content was a focus of the Google Medic Updates. On the same day as the Medic Update's release, Google Search Liaison, Danny Sulivan tweeted: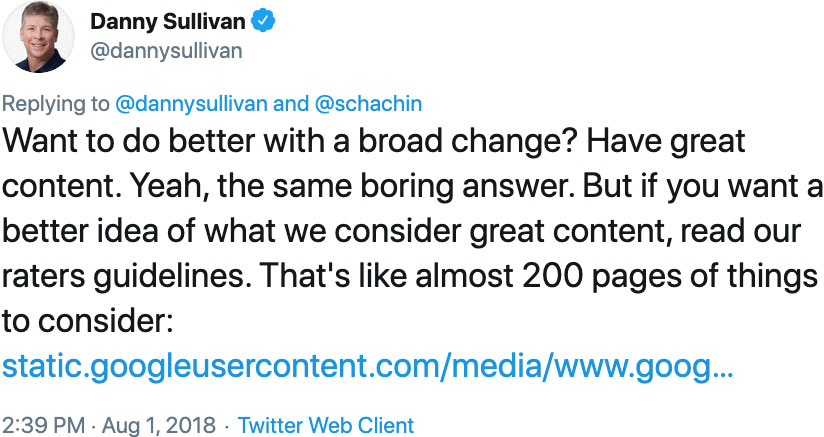 The takeaway? Create great content.
What is "Great Content?"
In his tweet, Danny was referring to the Google Search Quality Ratings Guidelines. This is where Google outlines the characteristics that determine whether or not the content is "high-quality." There are entire sections devoted to YMYL content.
High-Quality Guidelines (AIM FOR THESE!)
High level of expertise, authoritativeness, and trustworthiness (E-A-T)
A satisfying amount of high-quality main content (MC)
Satisfying website information and/or information about who is responsible for the website, or satisfying customer service information if the page is for shopping or includes financial transactions
Positive website reputation for a website that is responsible for the MC on the page
Low-Quality Guidelines (AVOID THESE!):
No helpful main content (MC) at all or so little MC that the page effectively has no MC
MC which consists almost entirely of "keyword stuffing"
Gibberish or meaningless MC
"Auto-generated" MC, created with little to no time, effort, expertise, manual curation or added value for users
MC which consists almost entirely of content copied from another source with little time, effort, expertise, manual curation or added value for users
The widespread impact of the Google Medic Updates on websites with YMYL content reinforced the importance of these standards and guidelines.
Medic Updates on websites with YMYL content reinforced the importance of these standards and guidelines.
Structured Data and Content
PerezHilton.com was seeing a bounce rate as high as 65 – 86% before working with us. It was clear that some of their content practices were at least partly responsible for the lackluster performance.
Partnering together with PerezHilton.com's content team, we implemented a new content strategy consisting of:
Content production standards and practices
Increased content length
Improved quality across the board
In addition, we scrubbed the site of duplicate content (another thing sites got dinged for with the Google Medic Update) and implemented Schema.org.
What is Structured Data? What is Schema?
Schema tells Google exactly what type of data is on your website and where it is located.
When SEOs mention "structured data," or "schema" they're talking about organizing a website's data to be as clear as possible to Google's crawlers. Schema refers to a meta-language, or a language that describes something using a vocabulary that a computer can understand, Schema enables search engines to understand the content on the website.
For example, you can use Schema to tell Google that you are a Plastic Surgeon, what your office address is, who reviewed you, what the star rating for your practice is, what your phone number is, what your specialties are, what your costs are, etc. As search engines move forward toward a more "semantic web," consistent schema markup only grows in importance.
Schema.org Markup (Microdata)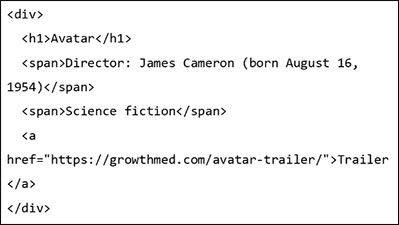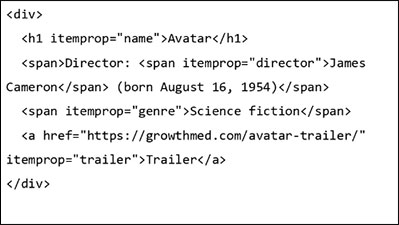 Left: HTML of webpage elements without schema markup, Right: HTML of webpage elements with schema markup that communicates to Google that, for example, this is a movie trailer and this is where you find it on the website.
What Is Microdata?
Microdata helps search engines identify what the content on your page actually represent. (<div itemscope itemtype ="http://schema.org/Movie"> in the above example). Basically, microdata is a semantic vocabulary of tags that you can add to your HTML to improve the way search engines read and represent your page in search engine result pages. It is a direct way of explaining to Google what the data on the page is, it helps them turn the data into actual information.
The reason Schema is important is because the search engines have shown to increasingly reward websites with structured data since structured data makes it easier for a search engine to understand your content, thus making it easier for them to deliver better results to searchers.
Results: Recovery From the Google Medic Update

Now, with almost a years' time since the relaunch of PerezHilton.com, we're pleased to say that our strategy is a success: the numbers more than prove it. We obliterated our main goal of restoring the website's organic traffic levels to where they were pre-update. Additionally, when Google released an additional core Medic Update on June 2019, not only did PerezHilton.com completely avoid a loss in traffic, it continued to experience further growth!
Candidly, PerezHilton.com would likely cease to exist in digital relevance today if it wasn't for the work and expertise that was invested into the platform. We don't say this lightly or ironically.
There are people whose livelihood depends on the success of the site, marketers that depend on the platform to share their advertisements and, on a lighter note, there are people that turn to the platform for their piece of entertainment buzz. Where PerezHilton.com was on a downward trajectory, the site is living its digital heyday and back as a competitor to TMZ.com, People.com, and ENews.com. The site is now getting the traffic and advertising dollars that it deserves!
At GrowthMed, our goal is to "help nice people finish first."
Has Your Website Been Hit By The Google Medic Update? We Would Be Honored To Help You Too. If you have any questions about plastic surgery marketing, SEO or any of the information above, we are always more than happy to talk!
Click Here if you would like us to review your website with you.